Carine Cats have more than 150 junior baseballers in 14 teams playing Little League, Intermediate League, Junior League, Senior League and Big League on Saturday afternoons and Machine Pitch during the week. Junior teams train at Carine Open Space on Monday and Wednesday nights.
Spring training for Junior teams will commence in September – watch this space for more details!

If you have a child playing in any of our Junior teams please join our Carine Cats Baseball Juniors closed Facebook group.
2018/19 Season
What a season our Juniors had! Congratulations to:
IL Black who fought hard to finish runner-up in the Intermediate League Grand Final
JL Black who won the Perth Metro North Junior League Championship
SL Blue who won the Perth Metro North Senior League Championship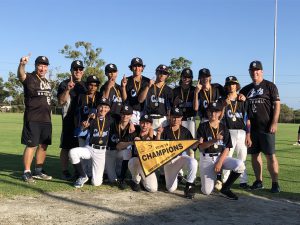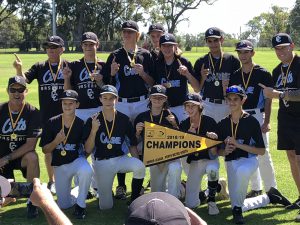 At the State Championships and National Championships:
– our Machine Pitch team were State Runners up
– 6 Carine players and the Carine coaches were part of the undefeated Northern Metros Junior League State Championship team who went on to win the National Championships in Adelaide in June and will be competing at the Junior League World Series in Michigan in August
– 4 Carine players were also part of the Northern Metros Intermediate League team who won their National Championships in Mildura in June and will be competing at the Intermediate League World Series in Livermore, California in August.
Best of luck to all the Carine players and coaches travelling and representing our Club over winter!