Northen Metros IL National Champions off to World Series
Northern Metros go back-back at Intermediate League National Championships.
Congratulations to the Carine Cats Intermediate League players who recently won the IL National Championships in Mildura, Victoria as part of the Northern Metros Charter team.  The team will now represent Australia in the Little League Intermediate (50/70) Baseball Division World Series to be held in Livermore, California in August.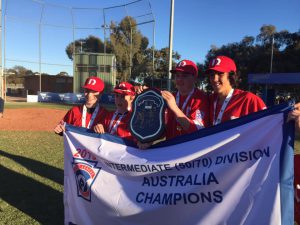 A big shout out to Jack Angeloff, Brayden Connor, Lachlan Cooper, Fletcher Sexton.  Congratulations Boys!
Read a recap of the final here.